Catherine Keener: She doesn't play the hollywood game. But she's winning it - Interview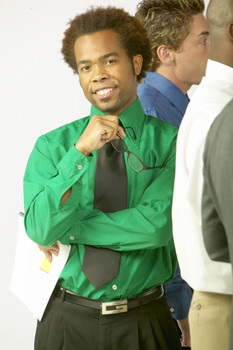 JENNIFER ANISTON: Hi, Keener.
CATHERINE KEENER: Hi, honey.
JA: So my dear, I have my first question ready for you.
CK: Oh my God, you really did your homework on this. [Aniston laughs] You know, I just came back from the U.S. Comedy Arts Festival in Aspen where Danny DeVito was watching me do an interview, and he turned to somebody and said, "She's really bad at this." [laughs]
JA: What is it about the interview process that makes you uncomfortable?
CK: I think maybe it's that you want to put things right and you can't always.
JA: With me you can. Just relax. (both laugh] Now, your husband Dermot [Mulroney] once said that he believes the success of an actor has to do with the size of their head. Not figuratively, but literally. What is that?!
CK: [laughs] I don't know. I know many great actors who have small heads. Dermot has some really interesting theories on a lot of things.
JA: Here's one you can answer: When did you get into this business?
CK: When I was in college, at Wheaton--[formerly] a women's college--I inadvertently got cast in a play and I had a really great time doing it. I didn't know I had any knack for it, but I really enjoyed myself. It was a complete surprise.
JA: And you hadn't ever had any intention of being an actor beforehand?
CK: No. It was nothing I ever considered. I was an English and history major, and I was in a class that culminated in a play at the end of the semester for Father's Weekend--we had a thing at our college called Father's Weekend where we all paid tribute to our fathers. The play was called Uncommon Women and Others and, actually, one scene takes place at a women's college during Father's Weekend.
JA: That's kind of romantic.
CK: I think maybe it was romantic, which is the twisted part of it. But anyway, it was so much fun. I wanted to do it again and again. After graduation I went to New York and I was an intern at a casting agency. And then I came out here [to Los Angeles] and worked for a casting director, and she turned out to be a real angel. This was toward the end of her life--she was sick with cancer--and I was really floundering. She asked me what I wanted to do, and I told her I was very embarrassed to admit it, but I'd done some acting in college.
JA: Why were you embarrassed?
CK: If you work in casting, it's sort of not cool to want to act. A lot of people think that casting directors are frustrated actors, but it wasn't true with any of the casting people I knew. She gave me some script pages and said, "Come back and read for me." I was terrible, but she really encouraged me and even called an agent for me. I think she wanted to set me up before she went.
JA: That's unbelievably moving. What was your first job?
CK: I don't want to talk about it. [both laugh] It was crap. I stopped for a bit and went back to class.
JA: In L.A.?
CK: Yeah. I studied with Susan Peretz and Roy London, an amazing teacher who died of AIDS. He had his hands on a lot of people.
JA: B[rad Pitt, Aniston's husband] studied with him, too, but you guys never studied together, did you?
CK: No, we just missed each other. That was a decade ago--and I'm still here. And friends with Brad, and you...
JA: Even though you threw a shoe at his shin during the audition for Johnny Suede (1991].
CK: [laughs] Before going in Dermot said, "Whatever you do during the audition, don't actually throw your shoe because sometimes your aim [both laugh] can be off. Just pretend." But, of course, I was panicked and freaked out and I threw it right at Brad and hit him in the shin.
JA: Which he still has a scar from. He calls it his Keener scar. Now, I see you as such a private person, and as we've watched you gain public recognition over the last few years--with Your Friends & Neighbors [1998] and Being John Malkovich [1999]--it seems your instinct is to retreat.
CK: I'm not a public figure at all. I don't really go out a lot to places where there are people like those who sit at the bottom of your driveway.
JA: [laughs] But don't you feel it might not be the public, but the media that creates this? I don't know who came first, the media or the public. It's like the chicken or the egg.
CK: I don't know either, but it seems to me that these days there are a lot of people who just want to be famous. I think that comes from a naive place because those people generally don't know what it's like. The celebrity-making machine--photographers, paparazzi, press and stuff like that--can be ruthless. I want to get good jobs and work with really good people, and I have been able to, but on the other hand, there are people advising you that in order to get good jobs you need to play along with the things that you don't necessarily want to do. It's not a hardship by any means, but it can be a real drag at times. But I've been lucky. I've done things that I feel really happy to be a part of.
JA: And you've had great friends come out of it, like Spike [Jonze, director of Being John Malkovich].
Nicole [Holofcener, director of the upcoming Lovely & Amazing], Edward [Norton, Keener's co-star in D0eath to Smoochy] and Danny [De Vito, Smoochy's director).
CK: But I feel that way about you. I look at your work on Friends and I can't believe how you all work together. Your chemistry's incredible.
JA: It's this combination of people that I consider family that allow it to work. So, you've got four movies coming out over the next few months.
CK: I do?
JA: [laughs] You've got Smoochy, Lovely & Amazing, Simone
CK: Well, that's not my movie. It's Al Pacino's. Actually it's Andrew Niccol's movie, because it's his crazy idea. And what's the other one?
JA: Full Frontal.
CK: Steven Soderbergh's movie. That was insane.
JA: How did you enjoy that?
CK: I'll let you know after I see it. You know, I worked for Steven Soderbergh on Out of Sight [1998], so I knew going in that he was great. I mean, newsflash! Steven Soderbergh's great! It was a little unnerving because there was literally no prep time, for me anyway, and I didn't understand the script--I still don't think I do. He'd turn the lights on and tell you things like, "Your dad committed suicide when you were little. OK, go!" And you'd be like, "Oh, fuck!" You'd laugh your way through the first couple takes and he'd go, "OK, we're done." And you're going, We're going to reshoot that, aren't we?" But there were no reshoots on this movie.
JA: No!
CK: Thank God it was Steven, because you know he's up to something great, though you don't know what it is.
JA: How fun. And Smoochy was fun, too.
CK: Robin [Williams], Edward--who cracks my ass off-and Danny...it was unbelievable.
JA: Now, I know you and Edward are talking about working together again.
CK: I can't really say what it is yet, but Edward is on the board of Signature Theatre Company [in New York] and we're hoping to do a play next season. I'm really excited. I think the experience is going to be one of those that I'll hold dear for the rest of my life.
JA: Have you done theatre before?
CK: In college and some small things out here.
JA: Nothing in New York?
CK: In New York I was an intern at a casting office, remember? [both laugh] And I was a waitress.
JA: Didn't you love being a waitress?
CK: I did, and I was pretty good at it. I liked to solve those puzzles--you know, when to put the dinner order in, that sort of thing.
JA: The chefs must have loved you.
CK: Where I worked they weren't called chefs.
JA: [laughs] If you weren't acting, other than waitressing, what would you be doing?
CK: I don't know. I think about it, and I'm like, "What could I do?" I'm unqualified for anything else. I'm barely qualified for this.
JA: I'm opening up a Mexican restaurant.
CK: Oh, I have somebody else who wants to do that, too. Someone really smart.
JA: Really? You always have to have a smart businessperson behind you.
CK: [laughs] Yeah. You know, Salma Hayek is a great cook, and she's a friend.
JA: She is a good cook, isn't she?
CR: She's an amazing cook. If she opened up a restaurant, I would so get in on the coattails.
JA: OK. So if we had Salma cooking the food--
CK: --and bringing in the people--
JA: --we would have customers all the time!
I'm psyched. I'd like to watch Salma do anything. Cook, set a table ...
CK: So would Dermot. [both laugh]
Jennifer Aniston's next film, The Good Girl, will be released this August. This page and opposite: Suit and shirt by HELMUT LANG. Previous spread: Tank top by CALVIN KLEIN UNDERWEAR. Jeans by CK CALVIN KLEIN JEANS. Styling: L'WREN SCOTT/United Talent Agency. Hair: PETER SAVIC for Redken/aRT miX (the agency). Makeup: PAUL STARR/Magnet L.A. Special thanks: THE ICON, L.A.; CINEWORKS, L.A. For fashion and photo details see page 127.