Job power: career management resources for librarians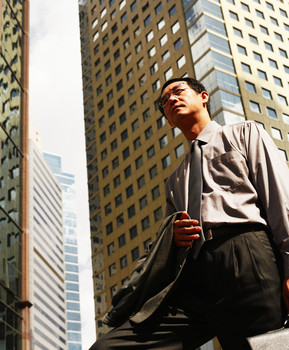 Tools to Jump-Start Your Job Search
THESE ARE BLEAK TIMES IN THE JOB MARKET FOR INFORMATION PROFESSIONALS. Layoffs across all industries, aging libratians who were heading for retirement but can't because of the economic downturn, more and more computerized information storage and retrieval systems "replacing" us, the increase in new graduates working in temporary jobs, drops as high as 73 percent in the number of placement listings at library schools--these are all factors. The 2002 Occupational Outlook Handbook says that employment for Librarians is expected to grow more slowly than the average of all occupations between 2000 and 2010.
But are these really such bleak times? Is there any light at the end of the tunnel?
According to Gretel Stock-Kuperman, senior research manager and executive recruiter at the Whitney Group in Chicago, "There are two ways you can be successful in this marketplace. You can be the exact fit for a company, meaning you have the textbook experience they're looking for, or you can be flexible with what you're looking for. Right now we all have to be flexible. [Librarians and information professionals] need to take a multifaceted approach, looking at traditional library jobs but also nontraditional roles...because our skills are applicable to several different areas."
Our experience in career services tells us that a successful job search entails two phases: (1) know yourself and where you fit and (2) develop a plan and put yourself on the market. The truth is that there will always be a job out there for someone who knows how and where to look.

Phase I: Mind the Gap
Start by performing a gap analysis of your own skills and knowledge. Right now employers are seeking candidates who are proficient in the "soft skills" or "emotional intelligence." These include strong interpersonal and communication abilities, management and leadership potential, the ability to persuade and influence, and the ability to work well in teams. In addition, you should assess your strengths and weaknesses in traditional library skills--finely tuned research skills, ability to think on your feet, planning and organizing skills, Web savvy from online retrieval to site design, attention to detail, a desire to help people, and the ability to manage resources and staff. We suggest revisiting the SLA Core Competencies and studying recent job postings. Are you on par with the demanding standards of today's job market?
Evaluate your knowledge gaps as well. Begin by defining your short- and long-term professional goals: Where do you see yourself next year? What about in the next five years? The next ten? Where do you fit in terms of function, industry, company, and geographical location? If your future goals aren't in line with your current skills, that is where your knowledge gaps are. Over time, you can strengthen your areas of weakness and close the gaps between what you have and what you want.
Once your search is in line with your future goals and you have identified your selling points, you are ready to put yourself on the market and launch your advertising campaign through a well-thought-out job search plan. One often-asked question is "How should I be spending my time and efforts?" We recommend the following allocation:
* 35 percent networking: research, contact, follow up with your warm and cold contacts, arrange informational interviews
* 25 percent research: develop a company target list, research industries and companies
* 10 percent job postings: check job sites, respond to openings
* 10 percent correspondence: update your resume, draft cover letters, conduct a mailing campaign
* 10 percent interview prep: anticipate questions, compose answers, practice
* 10 percent organization: manage your information on each company and each contact
Whether you are a jobseeker, career changer, recent graduate, ambitious professional, or just curious, we hope you find this advice from the trenches useful. Everyone's job search and career development are unique, but here are our recommended top tools to help you jump-start your job search and learn how to efficiently and intelligently manage your career. Best of luck!
Phase II: Close the Gap: Recommended Resources
Networking and Interview Prep
"The most important thing jobseekers can do is expand their personal network," says Stock-Kuperman. "The way you're going to find a job in this market is to talk to people and be 'top of mind."' For most people, networking is uncomfortable and challenging. Here are three books that are bound to help you face the challenge, followed by our hands-down top choice for an interviewing guide:
When the Little Things Count...and They Always Count. Barbara Pachter. NY: Marlowe & company 2001. $12.95.
How comfortable are you when it comes to business dinners, e-mail etiquette, thank-you notes. business card guidelines, diction dilemmas, and so on? Pachter covers it all. This collection of 600-plus tips is invaluable. In one paragraph or less, learn--once and for all--the answers to the simplest and most mind-boggling questions about business behavior and etiquette.
The Fine Art of Small Talk. Debra Fine. Englewood, co: Small Talk PubLishers, 2002. $12.95.
Recently revised, this guide is aimed at the shy, novice networker. It provides numerous suggestions for questions and answers, and tips on listening. It also offers specific advice on making a lasting impression that will help you get started and tame the awkwardness. Fine's enthusiastic style makes an energizing and confidence-boosting read.
Vault Guide to Schmoozing. Marcy Lerner, Ed Shen, Mark Oldman, Hussam Hamadeh, and Samer Hamadeh. NY: Vault.com. 2002. $19.95.
The team behind this book claims to "know schmoozing and know schmoozers, and have schmoozed with some of the best to find out just how they do it." Vault does a good job of presenting the mindset of expert schmoozers and their inspirational stories. A variety of sidebars address special situations, such as telephone schmoozing and office gossip. The self-test ranks your schmoozing quotient. This is for the beginner looking for networking tips for almost any situation.
Sweaty Palms: The Neglected Art of Being Interviewed. H. Anthony Medley. Berkeley, CA: 10 Speed Press, 1978, 1993. $11.95.
If you read one book about preparing for the interview process, make it this one. Appendices include commonly asked questions and suggestions for questions to ask an interviewer. The most helpful aspect of this well-loved book is the psychological preparation the author offers for the careful reader.
Job Postings: Looking for Job Openings?
Guide to Employment Sources in the Library and Information Professions, http://www.ala.org/hrdr/employment_guide.html, Darlena Davis, Office for Human Resource Development and Recruitment, American Library Association.
This invaluable guide goes from the general to the very specific and covers telephone joblines; contact information for associations and groups (including permanent and temporary placement agencies specializing in information workers); state, regional, and federal resources; information on international exchanges; and a brief but helpful guide to thinking about information skills in nonlibrary settings.
Library Job Postings on the Internet, http://www.libraryjobpostings.org/, Sarah Nesbeitt, Eastern Illinois University.
Search by location (including internationally) or by sector (academic, etc.). This site doesn't just give a rundown of URLs but gives information on the scope of jobs included at each site (for instance, "archival postings in North Carolina"), frequency of update, and sponsorship.
Lisjobs.com--Jobs for Librarians and Information Professionals, http://www.lisjobs.com/, Rachel Singer Gordon.
This site takes a comprehensive approach to the job search for information professionals. (Nesbeitt's site is a bit easier to browse for job postings.) A nice feature here for the jobseeker is "other ideas"; for instance, if you are looking for a job under the "state" category of Arizona, "other ideas" include looking at the Big 12 Plus Library Consortium. Gordon has done a great deal of background work about where informational professionals can cast their nets. This site is also the home of Info Career Trends, a professional development e-mail newsletter. Gordon offers advice on interviewing and getting started, library salary statistics (including salary survey links), and articles about the profession and its specialties.