The arts communications - Special Report: Career Watch 2003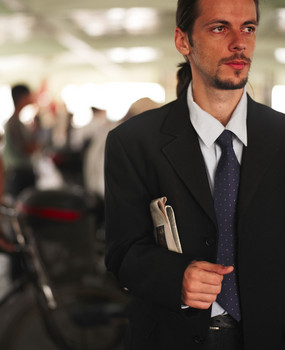 Although many companies have made job cutbacks recently, the Bureau of Labor statistics (BLS) sees change on the horizon. Here we profile occupations that are expected to offer opportunities in the near future. Each profile highlights education requirements, salary data (from BLS and professional associations), and sources for more information.
THE IMAGE OF THE STARVING ARTIST, THE OUT-OF-WORK actor, and the struggling writer just might be a thing of the past. Full-time jobs are available for the artistically inclined--many with good salaries and benefits. (Some artists and writers, however, do opt for a flexible, freelance lifestyle.) The Bureau of Labor Statistics (BLS) reports that jobs in the arts are expected to grow faster than the average for all occupations over the next eight years.
Marc Dennis, an assistant art professor at Elmira College in New York, says companies are looking for creative people who understand a visual medium and are capable of keeping eyes glued to the screen with dazzling graphics and good design. "Many companies are eager to hire qualified people with art, art history, and design backgrounds," he says.
NOT JUST SINGIN' AND DANCIN'
While only a talented few will ever win a Tony, exhibit in a major gallery, or write the Great American Novel, there are plenty of arts jobs that, while perhaps less glamorous, can offer job security and a steady income.
"Students need to remember that jobs in the arts aren't just the ones that are out front--on stage, on exhibit, in concert. That's only a small percentage," says Nancy Shankman, director of creative and performing arts for Bronx high schools in New York.
Some artistic types end up working in unusual or nontraditional fields, such as musical instrument design or medical illustration.
"People imagine the artist with a beret on his head, standing in front of a blank canvas," says Maryellen Schroeder, director of career services at Massachusetts College of Art. "An artist is actually a problem-solver.
You take that skill and solve problems about how to manipulate materials to express your vision."
THE EDUCATION QUESTION
A higher education isn't a necessity for all artists--it depends on your interests and aspirations. A talented actor, dancer, or musician may decide to try his or her luck on the audition circuit, waiting tables or working as a temp to make ends meet. Others may go to a conservatory or a college with a strong performing arts program. Many aspiring writers, filmmakers, and public relations specialists hone their communications skills at liberal arts colleges. According to the BLS, most writing jobs require a liberal arts degree with a major such as communications, journalism, or English.
Schroeder believes college provides an atmosphere that fosters all young creative people. "Being around a community of artists and instructors will help you develop your own aesthetic and abilities," she says. She adds that a healthy dose of liberal arts courses in literature, philosophy, and history can only fortify an artist's sensibility and marketability.
Regardless of your path, Schroeder advises stopping by the college career office early. "We tell people to come in their freshman year," she says.
ARCHITECT
Mimi Tsai
AGE: 33
LOCATION: Chicago, IL
JOB: Architect at Mekus Studios Ltd.
EDUCATION: Tsai holds bachelor's and master's degrees in architecture from Yale University. To become a licensed architect, one must pass an eight-part exam (four to eight hours for each part) after a three-year internship at a firm.
SALARY: The median annual salary for architects is $49,233.
ON THE JOB: Tsai has helped design schools, hospitals, and houses that are functional, safe, and meet the economic needs of her clients. Currently, she is "space-planning" for the U.S. government--designing train station interiors for the Department of Transportation. A recent project required that Tsai work with a team of three on determining wall and door types, sound resistances of walls, electrical requirements, cabinetry specifications, and placement of furniture and equipment.
Incorporating both hand-drawing and computer-aided design and drafting (CADO), Tsai creates an initial design for clients. Early in the process, she may use tracing paper over computer drawings. In follow-up meetings, the clients "red-line" her drawings, suggesting changes on views, lighting, and position of work stations.
STARTING OUT: "I considered myself an artist at 10, and then in high school I discovered I was good at math and science. In college, I tried a pre-med chemistry class, but I couldn't measure a gram of salt exactly, so I immediately switched to architecture."
REWARDS: Tsai finds talking to clients and translating their ideas into art satisfying. Once, she watched the construction of a house she'd designed. "That was fun," she says. The carpenters asked her questions, and seeing her art become brick was another rewarding level of the process. Constructed projects "never come out exactly as you think."
CHALLENGES: Tsai once spent months designing stairs for an eight-story building. "Each floor was a different height," she says. Accurate math skills are essential for architects: Tsai had to figure in landings and calculate the exact height of each step, making it a complex project.
MORE INFO: Association of Collegiate Schools of Architecture, www.acsa-Arch.org
Jami Dittus
CHEF
Ben Coffin
AGE: 26
LOCATION: Guthrie, OK
JOB: Chef and owner, BeSpoke Distinctive Dining
EDUCATION: Bachelor's degree in hotel and restaurant management (minor in business) from Oklahoma State University; studied at Le Cordon Bleu, a culinary school in London.
SALARY: According to Salary.com, the median annual salary for executive chefs is $63,424.
ON THE JOB: Coffin returned from England to pursue his dream of opening a restaurant in his hometown. With the help of loans and financing from his father, he bought a building--a former Coca-Cola bottling plant that had been vacant since the 1960's--in the downtown historic district. He spent the next six months renovating and furnishing the space, attempting to recreate the warm, inviting feeling he had experienced at restaurants in England. "When Americans go out to eat, we want our food in 30 minutes, we only talk about work, and then we leave. In Europe, you go out with friends and family and you don't talk about work. You enjoy the food and company and you may spend two or three hours at the table. I wanted to bring that experience to my restaurant." In September 2001, he opened BeSpoke Distinctive Dining. The name means "custom-made" or "individually-tailored" and it describes the experience he tries to give guests at his restaurant. Dinner guests must make reservations at least a day in advance. The f our-course, fixed price ($40) menu changes weekly.
Most mornings after drinking a cup of tea at the local coffee shop, Coffin heads to Oklahoma City to buy fresh produce and meat. Then he goes back to the restaurant to start preparing the meal. He does as much prep work as possible before guests arrive--slicing vegetables for starter courses, preparing sauces, making pastries for dessert. He spends most of his time behind his 60-inch range with six burners, a griddle, a broiler, and an oven. He uses stainless steel tables, sharp knives, cutting boards, tongs, whisks, mixers, and a large refrigerator. During slow periods, he must keep the business running, making sure taxes, staff, and bills get paid.
STARTING OUT: As a teen, Coffin helped out in his father's restaurant. After graduating from Le Cordon Bleu, he worked as an apprentice with a chocolate wedding cake designer.
REWARDS: "The most rewarding thing is when I go out and talk to the dinner guests and see the satisfaction that they have from enjoying the company and enjoying the food."
CHALLENGES: "I've had experience working in kitchens before but the business part of it--all the paperwork--is new for me."
MORE INFO: The National Restaurant Association Educational Foundation, www.nraef.org
Traci Mosser
RECORDING ENGINEER
Scott Hull
AGE: 39
LOCATION: New York, NY
JOB: Chief mastering engineer, The Hit Factory/Scott Hull Mastering
EDUCATION: Two- and four-year schools provide essential training in sound engineering and electronics. Hull graduated from the State University of New York--Fredonia with a BA in trombone performance and a BS in sound recording technology.
SALARY: Entry-level assistants earn about $10 per hour; salaries for experienced professionals are often percentages of record sales.